Weekend Round up: Farrell & Browne take the wins
Glenmore A.C. 6k
Well done to Star of the Sea's Deirdre Farrell and Margaret Tallon for two great runs in Glenmore A.C's 6k road race on Sunday 20th October 2013. It was great to see Deirdre Farrell take first place in her age category in  a time of 27.47minutes. Unfortunately Margaret Tallon was just outside the medals in 4th place in her category – next time Margaret! Well done to Glenmore for hosting a great event once more.
Full Results: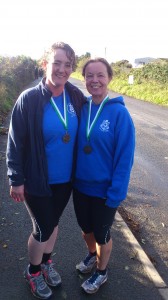 Gerry Farnan Cross Country
Star of the Sea had 3 athletes participate in this years Gerry Farnan Cross Country in the Pheonix Park on Sunday 20th October 2013. Phylis Browne competed in the ladies race and took the win in the over 60 category in a time of 22.50minutes – nearly a minute ahead of second place. In the mens race, we had our juniors on the start line this time around. Robert Tully and Andrew Coscoran finished within 8 seconds of each other, with Rob taking 11 place in a time of 21.42 and Andrew finishing 12th in a time of 21.50minutes.
Full results available on precision timing:
http://www.precisiontiming.net/result/racetimer?v=%252Fen%252Frace%252Fshow%252F1590%253Flayout%253Dprecision_timing
Well done to all the athletes this weekend, and best of luck to everybody competing in the Leinster championships in Dunboyne next weekend.