Euro Cross – What a Race!
Well done to Andrew Coscoran who was 2nd Irish man across the line in 40th position in a time of 18.55min over the 6km distance – What a run!!! Leaving Dublin airport Andrew was the 4th ranked Irish man!
These two pictures courtesy of Andrews Coach Brendan who was shouting at the sidelines!
Irish Senior Mens Team finished a close 6th, it may be outside the medals unfortunately but 4 athletes in the Top 31 across the line in a European Championship  is excellent running! Well done to all the Irish who competed in todays Euro Cross Country Champs in Belgrade – next year its off to Bulgaria!
Fionnuala Britton comes 4th in Ladies Senior Race, Meaths Sara Treacy 31st and 2nd irish across the line, with Skerries Ciara Durkan 36th (3rd Irish) across the line!!
u23 Irish Mens Team 4th in Euro Champs!! Well done boys 🙂
Junior Mens Results as I saw them come in:
Ireland 9th Team in the Junior Mens European Cross Country Championships 2013!
Con Doherty 6th irish 95th place
Kevin Mulclaire 5th Irish 85th
Ruairi Finnegan 4th Irish 61st place
Aaron Hanlon 3rd irish 47th
ANDREW SECOND IRISH MAN HOME 40th PLACE!!!!! 6km in 18.55min.
Sean Tobin finishes 9th!
Great Sprint finish in the Mens Junior Race!!!
Come on Ireland! Sean Tobin 9th at 4.5km! 1.5km to go!
All lined up on the start line of the junior mens race – Best of Luck Ireland!!
Starting Line up: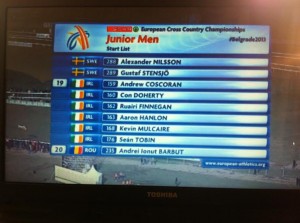 Getting all sorted in the call room: